n a v i g a t i o n Home
What's New
---
Me
Friends
Rants
Gallery
f e a t u r e s
Computers
- Dual Celeron
Nissan Maxima
Saturn
l i n k s
Links
Emperor's
Hammer

---
<!***** MAIN SITE GOES AFTER THIS SECTION *****!>

---
Updated July 29, 2000... extensively revised! Some pictures may be added as I missed some angles in this new series, and the extensive changes since the original photo shot leaves some of the original shots as unusable even for reference.
July 30, 2000: minor additions.
April 29, 2001: Several minor hardware changes over the last year... video card changes and the Toshiba 2x DVD were removed. No other changes other than thumbscrews being added.
Comments about this case or what I have done to it are welcome, send them to me at your lesiure. Originally this as an expansion of my post about the Chenbro GENIE on the Ars Technica forum, where I post as continuum. Additions and further modifications of this case lead to the new revision that you see here.
The Chenbro GENIE case was probably the second case to cause a stir among overclockers. Along with the Lite-On FS020 case, these are a new set of cases aimed at people who want massive cooling through excellent design and large 120mm fans. By using fewer 120mm fans instead of tons of small 80 and 92mm fans, you theoretically can get the same or better airflow for less noise. Those who are overclocking to the extremes of air cooling or who have lots of hot running devices are the ones who should look into these cases; there are also others such as myself who move their PCs fairly often and thus cannot accept the structural problems of hacksawing an existing case.
These cases are large mid-towers. Both the GENIE and FS020 have 4 5.25" exposed drive bays and 2 3.5" exposed drive bays. The GENIE can also accept 5 3.5" harddisks, I believe the FS020 is similar. The dimensions of a GENIE are 8.89"x18.3"x20.8" (WxDxH) according to Area Electronics System's website, which is actually shorter but wider than the Addtronics 6890a mid-tower case.
The primary additions or modifications to my case are:
BayBus by Cliff Anderson (CliffA on Ars Technica). This is a 12/off/7volt unit with bicolor LEDs to indicate voltage on each of the switch terminals, green for +12v and red for +7v. By reducing fan voltage, you decrease fan speed, reducing both noise and airflow. I generally run at full speed all the time, only slowing fans when watching movies or late at night to sleep.

Addtronics casters- I had to drill holes, then install the casters using supplied washers and nuts from Jim Hanson.

Ducted twin 120mm intake fans- I took a jigsaw to the front of my case, modifying it to fit 2x120mm fans compared to the single 92/120mm mount standard. This restores the case to balanced intake and exhaust, which I believe is beneficial. The increased airflow also provides for increased cooling.

Panasonic Panaflo L1A low-noise fans. Reliable, quiet fans with excellent airflow vs. their competition, especially in 80mm and 120mm sizes. No motor noise or vibration, although use of rubber grommets or weatherstripping is recommended to help reduce noise. (Pabst fans are comparable, but Panaflos are easier to get in the US, from Jameco, Digi-key, Teamawe, and Jim Hanson.

Removed stock pressed fan grilles and replaced with wire ones. Improves airflow, reduces noise.

Noise insulation, part 6767T25 from mcmcaster.com. Very effective in killing vibration- the sides of my case are "dead", but not very effective at absorbing actual sound noise. Debatable mod.

My setup:

Abit BP6 r1.00

Two Celeron 366 PPGA OEM (Week 27's or Week 40's), Malay. Lapped to 2000 grit. Overclocked to 570/2.1v.

Two Alpha PFH6035 w/YS Tech fans (from www.2cooltek.com)

Two 256MB Infineon 7ns PC133 CAS2 SDRAM.

Two IBM Ultrastar ES series HD's, UW 68-pin.

Two CD drives- one Toshiba 32x and one Teac 4x12 CD-R, all SCSI.

3.5" floppy

Iomega ZIP100 SCSI.

Leadtek Winfast Geforce2GTS Enhanced 32MB (nVidia Geforce2GTS), mildly overclocked.

3Com 3C905C 10/100 ethernet

Hauppauge WinTV stereo

Creative Labs Soundblaster Live! Value CT4830 w/digital out

Two 120mm Panaflo L1A for intake (from Teamawe), ducted.

One 120mm Panaflo L1A for exhaust (ditto)

One 92mm Panaflo L1A for exhaust (near the HD's)

One Super slot fan for exhaust/video card cooling (from www.2cooltek.com); rated at 42cfm, in reality 4.2cfm?

Sparkle Power International (SPI) 350watt PS, modified.

Addtronics locking casters.

Blue power LED (from Radio Shack, part 276-311, 5v, 30mA, 300mcd).

Rounded floppy, 40-wire IDE and 50-wire SCSI cables.

Fujikura round 68-wire UWSCSI cable.

Noise damping material part 6767T25 from mcmaster.com.

Two plastic "EXIT" signs from Home Depot, for ducting the front intake fans.

#6x2.5" and #6x1.5" screws for fan mounting, rubber grommets for fan vibration damping.

Thumbscrews from Antec in selected locations.

About 50~100 zip ties, cable mounts, and a yard or two of electrical tape.

Total airflow through the fans is around 280cfm (cubic feet per minute). Two front mount Panaflos draw in about 70cfm (68.9cfm actual) each, the two rear mounts exhaust about 110cfm (70+40), and the SPI PS exhausts about 30cfm. A Super slot fan exhausts another 4cfm, so on paper that's at least 280cfm of airflow through the fans or around 140cfm through the case. Keep your kids and cats away from this thing!! Slightly more air is being exhausted than what is being drawn in, but that's fine with me. As learned recently, a computer case does have noticable internal pressure and rated fan specs are usually between 30 and 60% too optimistic, since they are measured for "free delivery" airflow. However great the airflow actually is, cases and fans are specificed with free-delivery values in mind for adequate cooling.
The primary concern about my case is noise, with all the said airflow, noise is unavoidable. Ducting the front intake fans reduced airflow noise from the front noticably, but the rear fans are impossible to duct in the manner that I would like. With my BayBus, all the case fans can be slowed to 7v, which results in almost no noise from them; however my non-switched YS Tech CPU fans and my PS fan produce motor noise which can then be heard. Exhaust air temperatures rise by approximately 2C when the fans are at 7v. A side note-- drive rails and case sides are a little tight initally, but they break in quickly and are durable. Drive rails in particular seem very secure.
Special thanks to Jim Hanson and his business, coolcases.com for his knowledgablity and for his excellent price on the case.
Now, onto the pictures!
The front! Note the BayBus, blue power LED, and ducting. The black layer visible through the holes is noise insulation. All openings not filtered are blocked with either insulation or tape. The chassis intrusion sensor was removed to fit the 2nd 120mm intake fan, but it could probably be reinstalled with slight modification.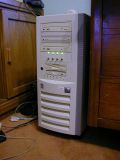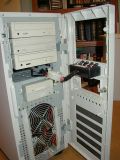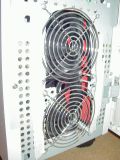 This is the back-- note new wire grilles and the super slot fan.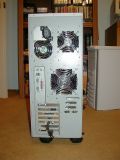 BayBus from Cliff Anderson. This unit has a remote fanbus which is detachable from the BayBus switches, a critical feature with the GENIE since the front bezel is opened frequently.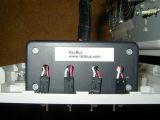 Right (power supply) side of the case. The remote terminals for the BayBus are located here, as are a considerable amount of power cables that are not needed. Fans are wired to the BayBus using 22 gauge stranded speaker wire, and are routed through holes behind the 3.5" drive cage, through holes inteded for the drive rails and out to the BayBus.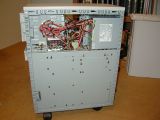 HD bay. Note the 92mm exhaust fan directly cooling the HDs.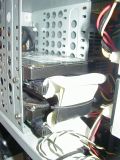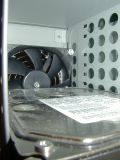 Side shot from the left side. The mess of cables heading up through the cable pass-through is managable, but not as clean as I would like.

Close up of the duct and Panaflos in front. I routed all of the cabling out of the way as best as I could, note the speaker wire carrying fan power. Rounded SCSI, floppy, and IDE cables are present as well, and are held in place with plastic anchors and zip ties. Depth perception from the shot of the pass-through is tough, but airflow is decent... considering all of the work I've done! :)

Shot of CPUs and rear 120mm exhaust. Note the Pentium heatsink on the BX chipset, I think it should keep it cool enough-- I'm using 3M thermal tape (fragtape) to hold it on. It's about 2" from the fan and is in no danger of being sucked in. :) ATX power cable is routed underneath the fan-- when working near the ATX I/O panel, be careful as it can cut you up. I've found this problem on most cases, not just this one and it generally is not a problem until you are fussing with an Alpha.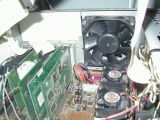 View of the CPUs and the Pentium heatsink I have on my BX chip. Note that my CD-audio cable is too short to route around the edge of the case.... From this perspective, most of the cabling is out of the way of airflow.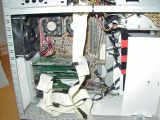 The lower section of my GENIE. Any cable clutter you see is because my cables are too long or too short! CD-Rom cables are a culript here-- long enough to reach, but not long enough to route as I would like. UWSCSI cable is too long as well as shown earlier, but that will have to do for now.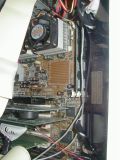 Close up of my Pentium heatsink which is now cooling my BX chip. If this heatsink/fragtape combo proves inadequate-- however unlikely-- I've got a thicker Pentium heatsink I can attach, and I also have a Tennmax Lasanga I could use. Note the 128MB DIMMs and cabling mess. To truly reduce cable clutter, custom-length cables are probably required.

Shot of the drive bays. Note the seperate power cable bundles-- 1 for the CD-Roms, one for the HDs, one hiding excess length, and the pair of minature connectors going to the ZIP and floppy drives. Also note the distance from the HD cage to the 5.25" bays, you have to remove the HD cage to pull HDs out. Fortunately that is pretty easy, although it is more cumbersome than some will like. You can probably fit 6 HD's in the HD cage, but it will be crowded-- 5 is easy, 6 is difficult. Then again, there are 6 LED's for HDs....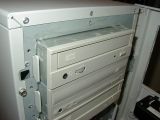 View of my 3.5" floppy, ZIP100 drive and the LEDs. The top of the 120mm fan you see is about 1mm away from hitting the LED bracket.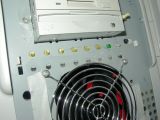 The foam intake filter. The front panel covering it pops off from the inside, very easy and very secure.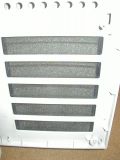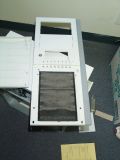 The side panel with sound insulation-- more than 2 square feet is required per side..

Overall, I am very pleased with this case. No real negatives right now except for noise, and with all the sound insulation it's just noise from air movement-- grommets and the Panaflos mean there is zero vibration noise (I don't even think I needed grommets). The sound insulation is fairly effective, but it's not the night and day difference that I had hoped. Unfortunately I didn't bring a drill with me to my dorm, so I can't add sound insulation to the top of the case.
Also, with all this sound insulation my Chenbro GENIE is HEAVY. It's definitely not going anywhere... It's a very good investment if you need the ultimate in cooling... :) IMHO it's worth it if you need it! I don't really need it, but I would have maxed out my old Enlight 7237 already so the Genie is a worthwhile upgrade to me.