Now that you're here... where do you go when you're done? Thanks to the explosion of blogs in 2003 (yes, this page was last updated in 2003! o_O) til now, the number of links has skyrocketed. Who knew we all loved to write so much for public consumption?
I make few attempts to keep this page updated: once a year if you're lucky, maybe slightly more often if the urge strikes me. Keep watching the main index for the news-of-the-moment.
If you wish to use a link banner to link back to my site, please download and host this image on your own site for you link page. It's a 500x55 jpeg, 7.5kbytes in size.
---
Amy. So many pictures of the world, yet she never remembers to stuff me in her suitcase and take me with her!


Alex, now in the third (fourth?) version of her site.

Barry, home of... well, many things. But the obvious part is the loud red 4-wheeled thing.


An Thomas, music geek.


Andi, home of the Maxima, then the Supra, then the Corvette...
Carley, the plight of the law school student.

Carol, who just has to have a blog that refuses to die, unlike some others we know...
Fobart, home of Jason and Ryan Fobart. Plus whatever's not on their individual domains.

Ginny (xanga), who also seems to be traveling the world a great deal and not taking me along either. Does extraordinary web design work. She has the creative bent that I never caught the knack of.

greatoz, aka Brian Bolander. Fellow and geek extraordinarie.
Greg, extensive political blog.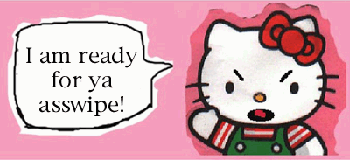 Jen Wang (xanga), another extensive writer. Does her writing make any sense? It seems to, at least to her friends.
Michelle (xanga)... yes, she writes volumes of text as well. Hey, some of my friends seem to enjoy it!

Nick, web designer extraordinaire. (aka, he keeps a roof over his head this way...)

Pearl, the music-fanatic who can't disappear, even when she tries... It works well for a while, but eventually we find her...
Sam over in England.
Sophia, who's a prolific writer, but not in blogs or on the web for a change


Thomas' Apartment - a band. See unity303 above...
Thuy's delicious creations.