« September 2003 | Main | November 2003 »
October 28, 2003
Picture update.
Weekend update... Knott's Scary Farm, Rosebowl (UCLA vs. ASU), Zuma Beach/Simi Valley fire pics...

Went shooting tonight with Joel. Smith and Wesson .357 6" barrel revolver, and a fullsized Glock .40... the revolver was FUN and accurate as hell. Glock was about the same as the Beretta 92FS for me (yeah I know the calibers are different)-- it felt the same-- decently well to shoot, but not nearly as good as the Sig Sauer P228. Kick on the revolver is pretty strong (I need to shoot a 1911 again to re-reference myself with the feel of a good .45ACP), but Joel shot VERY well with it-- even better than his usual, which is already so good it's ridiculous!

If you cocked the revolver before firing, the trigger pull was about the strength of a wish. "Hmm I'll fire..." and you'd have a bullet on the target before the thought was done. Very accurate that way if you're focused... but not as fun. =P My groups with the Glock were better than the two times with the Beretta, but not as good as with the Sig. We'll see when I have time and money to go again...
Posted by brian at 11:10 PM | Comments (0)
October 26, 2003
Fire.
Long Beach Press-Telegram article from Saturday, October 25.

Fires burning... fire season... man, this sucks.
1) North of Simi Valley: Val Verde fire.
2) North of Fontana/Rancho Cucamonga: Grand Prix fire.
3) San Bernadino County: Waterman fire.

Plus two in San Diego. Crap.

We were at the beach today... turns out a small fire off PCH/CA-1 just south of the beach we were at shut down PCH. Turned our 12 mile trip back to West LA into a 40+ mile trip back through Thousand Oaks. We stopped for an impromptu dinner with a friend in Thousand Oaks at Cheesecake, at least... which was cool, but Thousand Oaks is SO FREAKING CLOSE to the Val Verde fire that the sky was pitch dark by 5:30pm and it smelled like BBQ and ash everywhere!
Posted by brian at 11:21 PM | Comments (0)
Go Bruins!
Go Bruins! 20-13 over ASU tonight!
Posted by brian at 12:58 AM | Comments (0)
October 13, 2003
Lego anyone?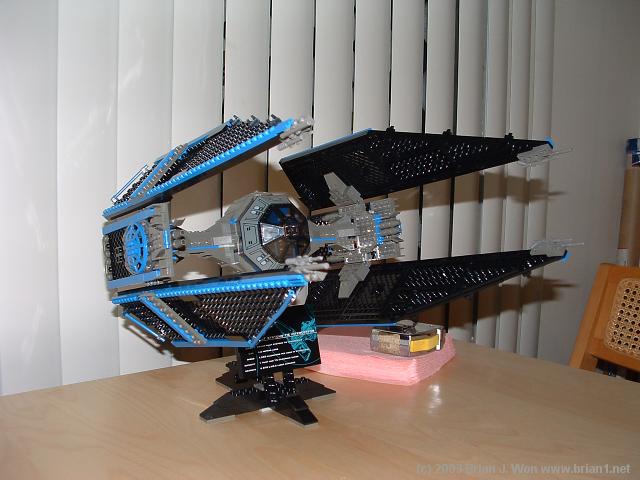 Barry and I built this tonight. 2 hours. Definitely worth it!
Posted by brian at 12:35 AM | Comments (1)
October 07, 2003
Vote!
If you're a resident of California, get off your butt and to the polls today for today's election. While I'm not happy with the prospect of a recall, I'm even less enthused with some of the other crap that's been happening...

I've already voted... gotta love absentee ballots.
Posted by brian at 08:08 AM | Comments (0)
October 03, 2003
Hiking and stuff
Hiking! Last weekend was fun. =)
What's not fun is Verizon forgetting to send me a bill again. F*ckers have me on a monthly billing cycle, which is all well and good, but they seem to send me a bill only every other month. *mad* At least they don't charge me late fees for being consistently a month late. Still. Fucking Verizon.
Posted by brian at 10:57 PM | Comments (0)